Dyeing Seed Source
Hi everybody!
First time poster, longtime reader here...;)
I can't seem to access the template to add myself to the member's blog side or the put up a seed sources section, so I thought I'd post them here.
I bought a
Natural Dyes Seed Collection
from Seeds of Change and only the red amaranth came up (and one hopi black dye sunflower).
But
I had a very low germination rate from all of the seeds I planted into soil in those little mini-plastic greenhouses, so I doubt it was the seeds. A bummer nonetheless.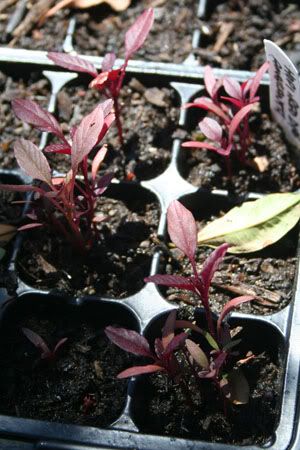 The amarinth is quite lovely when the light shines through the leaves. Mental note: take a better picture.
I've also planted a fair bit of the Dark Opal Basil in peat discs and those did quite well and have survived the transplanting. I bought Bronze Fennel from a local nursery (I really like the stuff you can dye with AND eat) but everything will have to get much MUCH bigger before I can harvest anything for dyeing.
The other source I found (through
Farmgirl Fare's
sidebar) is
Pinetree Garden Seeds
which has indigo and woad, weld and various other dyestuff seeds (look under herbs and not just under their dyeplant subsection) with quite nice prices. If you cruise through Farmgirl's sidebar there are other seed places with dyeplants, but this was my favorite.
Gardening is pretty new to me. Luckily, I live in San Diego and the climate is pretty forgiving--as long as I water...not too much, not too little...
Did anyone do any sort of garden plan á la Buchanan? I'd love to see piccies.